The Launch Formula Webinar Series is here.
Episode 4, "Leverage Your Business Case for Early Funding", is streaming live on Wednesday, 12 October. Don't miss it.
of all new innovations fail
Deciding to transform your business can be difficult, expensive and daunting, but we stack the odds in your favour.
AdvivoICP will help you find the right idea, then get the idea right, to disrupt and transform your business and market opportunities.
Combining data science and disruption theory with lived expertise, AdvivoICP's team create clear, measurable paths to successful commercialisation which minimise risk at every step.
Are you ready to disrupt your competition?
What IS The Launch Formula?
Fifteen years of quantitative data science research has found that the success or failure of new products launches is highly predictive.

By utilising data science tools, combined with The Launch Formula and lived expertise, mid-tier and corporate innovators have the ability to substantially increase their probabilities of success of launching new innovative products and services.
Each phase of The Launch Formula is a validation point.
Have you validated before moving onto the next phase?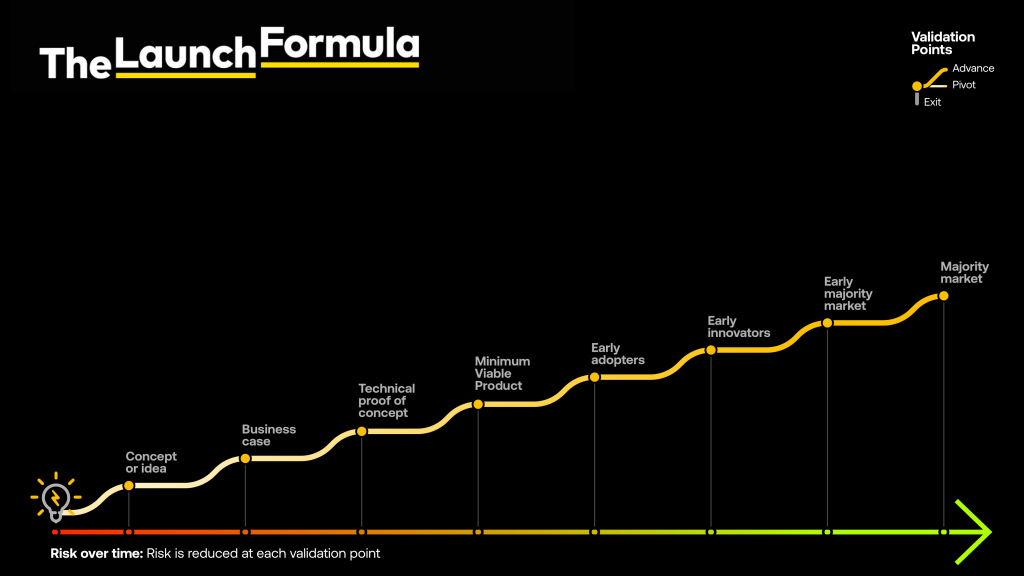 © Advivo ICP Pty Ltd 2022 | www.advivoicp.com
Who do we think is the target market?
How big is the market potential?
Who do we think are the competitors?
What is the Job to be Done?
What business model is best?
What does the roadmap look like?
What assumptions need to be tested?
How much will it cost to get to market?
Is it worth pursuing?
Establish initial corporate structures
What is the exit strategy?
Know the market

Ideally using data science

Validate market entry target; market size; market incumbency; market competitors
Statistically validate and know how and where you're hoping to compete
Market qualitative research – interviews with target market reps
Commercialisation mapping in detail
Commercialisation expenditure budgets
Revenue modelling and projection
Technical Proof of Concept
Can we prove at the lowest cost that your product/service can be built and work?
Can it do the job well enough for market entry?
What will it cost to manufacture or deliver?
Can we deliver at a lower cost than current options?
What did we learn?
Construct to do specific MVP brief
Subject matter experts to test
Early Adopter Program (testing potential market adopters)
Strategy development for market entry
Refining business model
Legal documentation
Brand development
IP registrations
Deeper research
Refining Job to be Done
Marketing strategy and collateral preparation
Consolidating corporate structures
Learning from Early Adopters
Validating emotional and social jobs to inform product development and marketing
Validating product acceptance
Validating features
Learning of new jobs or features
Informing key marketing messages
Informing product development to improved performance
Preparing marketing strategy for early innovator market phase
Validating pricing models
Validating adoption to early innovator phase
Developing to improve product performance
Consolidating revenue streams
Preparing marketing strategy for Early Majority Market Phase
Researching channel market opportunities
Beginning to research and expand market segment entries
Exploring further innovative business modelling
Strategy reviews and refinement
Reviewing competitors' bases of competition
Implementation of stronger risk and governance
Review of competitive forces and refinement of bases of competition
Expansion into global markets (as per early innovator phase)
Consolidation of enterprise value
Potential for exploring exit strategy options (partial or full)
Expansion of product offerings
Global brand building
Corporatisation of company structures
Volume based marketing
Improving customer onboarding (speed and customer experience)
Expansion of market segments
Improving product performance
Continued innovation of product and models
Development of channel market adoption and execution
Strong brand building according to Jobs to be Done
Countering competitor responses
PR, industry awards and market industry promotions
Stronger financial forecasting
Maturing of ongoing R&D
Maturing of internal operations, HR and governance